MP-1000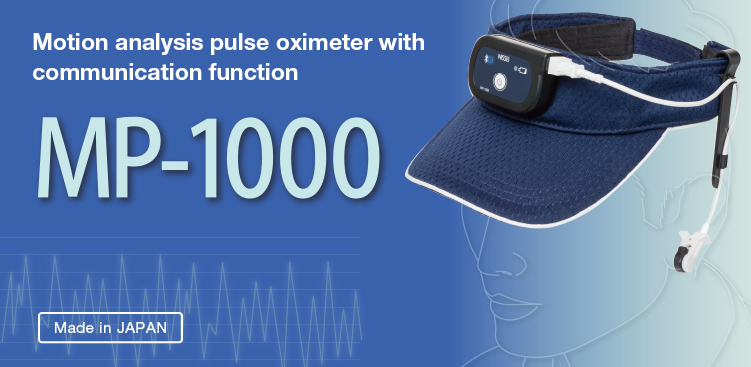 Compact, lightweight system enables easy attachment during training!
MP-1000 makes it possible to offer more appropriate risk management and post-discharge exercise guidance during rehabilitation through its continuous,high-precision management of vital data.
Characteristics

SpO2 measurements / oxygen concentration levels in the blood (arterial oxygen saturation levels) are made on through ear lobe.

Pulse rate is measured at the same time that SpO2 measurements are taken. Saved data may be used to evaluate training effects and risks.

Easy operation allows measurement results to be obtained promptly.

Specific error code displays for equipment failure

An alarm notifies when SpO2 or pulse rates fall

Up to 8 hours continuous data recording

"NISSEI MP-1000" a dedicated app for easy connection.

Uses a long-lasting Lithium ion battery.
Bluetooth connection for smartphone monitoring

Equipped with a Bluetooth function, MP-1000 may be synchronized with NISSEI's smartphone app "NISSEI MP-1000".
Enables monitoring of exercise intensity and efficiency that couldn't previously be evaluated.
MP-1000 a set that enables easy attachment without the need for cables or electrodes stuck to the chest. Attached to the patient during training it continuously measures blood oxygen saturation and the pulse from the earlobe. The device has made it possible to quantitatively evaluate the intensity and efficiency of exercise based on recorded vital data. It can be used to support decisions on the allowable level of exercise and lifestyle guidance after discharge during rehabilitation.
Also supports home-based rehabilitation.Collectively managing data in the cloud.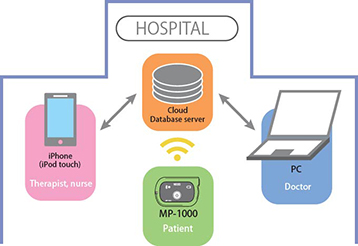 The MP-1000's measurement data is collected on a cloud server in a system accessible on PCs and smartphones at the time of monitoring. Data files may be displayed in each mode enabling measurement results to be viewed in more detail. This makes it possible to manage rehabilitation at hospitals and offer appropriate care for patients who are undergoing rehabilitation at home.
Measurement stability during exercise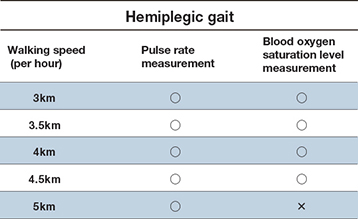 The accuracy of measurements for treadmill walking by hemiplegia patients has been verified for speeds of up to 5 km/hour for pulse measurements and 4.5 km/hour for blood oxygen saturation readings(varies depending on the individual).
Meets ISO standards established in 2011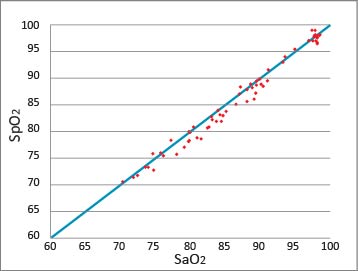 The ISO standard (ISO 80601-2-61:2011) criteria require a system to be tested on humans. Pulse Oximeter MP-1000 was confirmed to meet the standards in an"evaluation test of SpO2 precision levels on humans" conducted in a low-oxygen chamber at the Travelers medical Center, Tokyo Medical University Hospital.
The graph is an excerpt from the article, "ARE ALL PULSE OXIMETERS RELIABLE AT SEVERE HYPOXIC CONDITION?" (Authors: Nao Kurita, Shigeru Masuyama, Shinji Fukushima, and Atsuo Hamada. Travelers medical Center, Tokyo Medical University Hospital, Tokyo Japan) released at the 19th International Hypoxia Symposium held between March 3-8, 2015.
MP-1000 SPEC
Model

MP-1000
Measurement principle

Double wavelength light absorption method
Measurement location

Ear lobe / fingertip
LCD

-
Blood pressure measurements

-
Measurement of pulse rate

○
Display of pulse amplitude strength

-
Event measurement

-
Display of perfusion index value

-
Out of range warning

-
Energy conservation mode

-
Automatic switching of direction

-
Memory

Memory in iOS device
Finger circumference

-
Bluetooth

Bluetooth Low Energy 4.1
Power supply

Lithium ion battery
Battery life (continuous use)

approx. 8 hours
Dimensions (H x W x D)

47 x 71.5 x 20mm
Weight

approx. 40g(without batteries)
Water resistance

IP22