DM-500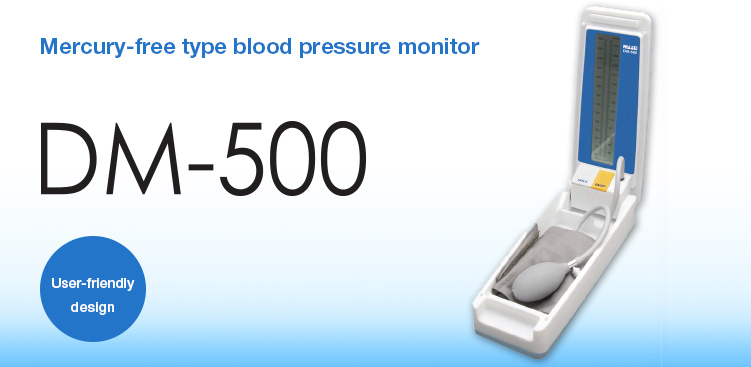 A mercury-free digital column blood pressure monitor that is safe and easy to maintain that applies the familiar operations of a mercury sphygmomanometer.
DM-500 has gained favorable reputations for its user-friendliness and environment-friendliness.
Characteristics

Take systolic and diastolic readings manually

Mercury-free LCD column display

Rapid exhaust during or after measurement by single hand operation

Uses two AA alkaline (LR6) batteries
Mercury-free type blood pressure monitor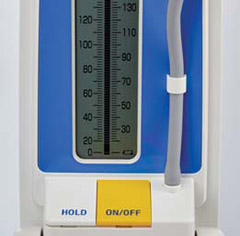 As the production, exporting and importing of mercury will be prohibited by 2020, the DM-500 is equipped with a vertical LCD display based on the concept of a mercury column. It can be used in the conventional style with a stethoscope without the worry of mercury leakage or gauge tube failure.
User-friendly design and materials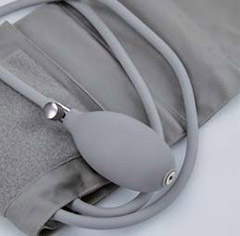 The soft form and light coloring help ease patient anxieties. Uses latex free material for the bulb and rubber bag and a soft-touch material for the arm cuff. Consideration was given to the smallest details so measurements can be taken in a safe and comfortable manner for the patients.
DM-500 SPEC
Model

DM-500
Measurement principle

Auto / ―
Manual / ○ Auscultatory method
Indicator

Bar ( Digital column ) / ○
Display ( Digital Numeric ) / ―
Function to maintain inflation pressure

○
Pressure indication range

20-280mmHg
Measuring range

SYS / ―
DIA / ―
PUL / ―
Accuracy

Blood pressure / ±3 mmHg
Pulse rate / ―
Inflation

Manual ( inflation bulb )
Exhaust

Manual ( inflation bulb )
Quick exhaust / ○
Power supply

AC adaptor / ―
Battery / 2 x R6 batteries
Power consumption

0.5W ( max. )
Memory

―
Average calculation /
Arm circumference

17-25cm ( S ) / Optional
23-32cm ( M ) / ○
32-42cm ( L ) / Optional
Operating environment

+10℃ ~ +40℃
30 ~ 85%RH ( noncondensing )
Storage environment

-20℃ ~ +60℃
10 ~ 95%RH ( noncondensing )
Dimensions ( W x H x D )

122.7 x 310.5 x 86.3mm, closed
Weight ( approx. ) without batteries

780g
CE

To be applied