DM-4000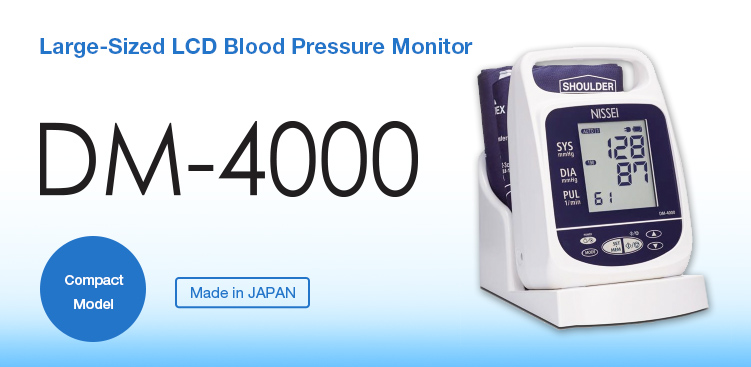 A portable unit with an easy to read display that offers fast, accurate measurements. DM-4000 is a compact model with a large-sized LCD that NISSEI is able to deliver with its extensive knowledge of design and manufacture of professional medical devices.
Characteristics

Blood pressure measurement / Wrap cuff around upper part of arm to take a systolic and diastolic reading

Pulse rate measurements / Pulse rates can also be measured along with blood pressure

Easy operation allows measurement results to be obtained promptly

Automatic or manual measurement can be selected

3 consecutive measurements will be taken automatically

Function to check for irregular pulse rhythm

Equipped with easy to use memory function

AC adapter / Built-in Ni-MH rechargeable battery
Compact body design equipped with large LCD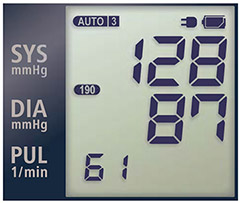 The device has been designed with a focus on a compact, lightweight body. It also offers a large LCD panel with large digital displays (values) that are easy to read. Offering ease in taking measurements and viewing results, DM-4000 is a blood pressure monitor for clinical use that has been developed to meet the daily demands of the active environment of the hospital.
Convenient top carryinghandle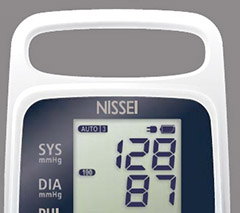 Equipped with a large grip handle on the upper part of the body, in combination with its compactness and lightness, makes it very convenient to carry around and useful in all healthcare fields where installation space is limited or the portable use is essential.
DM-4000 SPEC
Model

DM-4000
Measurement principle

Auto / ○ Oscillometric method
Manual / ○ Auscultatory method
Indicator

Bar ( Digital column ) / ―
Display ( Digital Numeric ) / ○
Function to maintain inflation pressure

○
Pressure indication range

3-300mmHg
Measuring range

SYS / 50-250mmHg
DIA / 40-180mmHg
PUL / 40-160pul/min
Accuracy

Blood pressure / ±3 mmHg
Pulse rate / ±5%
Inflation

Automatic (air pump)
Exhaust

Automatic (electric control valve)
Quick exhaust / ○
Power supply

AC adaptor / ○
Battery / Rechargeable battery
Power consumption

14W ( max. )
Memory

30 readings
Average calculation / ○
Arm circumference

17-25cm ( S ) / Optional
23-32cm ( M ) / ○
32-42cm ( L ) / ○
Operating environment

+10℃ ~ +40℃
15 ~ 85% RH( noncondensing )
Storage environment

-20℃ ~ +60℃
10 ~ 95% RH ( noncondensing )
Dimensions
( W x H x D )

228 x 134.3 x 206mm
Weight ( approx. ) without batteries

925g
CE

To be applied