DS-G10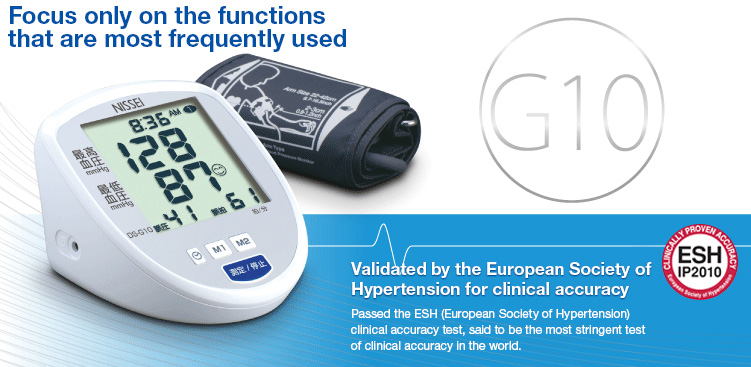 These entry model blood pressure monitors that focus only on the functions that are most frequently used, are simple to use and may be recommended to anyone.
Characteristics

Blood pressure measurement / Wrap cuff around upper part of arm to take a systolic and diastolic reading

Pulse pressure display for healthcare that's a step ahead

Pulse rate measurements / Pulse rates can also be measured along with blood pressure

Takes measurements while slowly inflating to alleviate stress on the arm

Irregular pulse rhythm symbol indicates insufficient detection of pulse wave during the measurement

Personal mode adjusts inflation values based on last 3 results

Checks for body motion during measurements

Reliability symbol indicates result of the measurement status check

Error code display allows easy identification of specific faults during measurements

Memory for 60 x 2 measurement results

Average of 3 readings in 15 minutes

Can be used with either AC adapter or four AA alkaline (LR6) batteries

Clock function for recording date and time of readings

Corresponds to versions manufactured in Japan
Notification functions that support measurement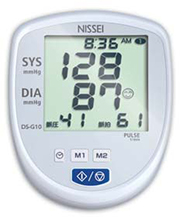 Checks for body movements and irregular pulse rhythms during readings and indicates them through the display of symbols. In addition, reliability symbol notifies the level of certainty for the obtained measurement result.
Easy on the arm measurements during inflation
Takes "pressurization measurements" while the cuff is slowly inflated for people who dislike the tightness of pressure around the arm. Also equipped with a personal mode that determines the initial inflation value and rate from the past three readings to shorten the time required for measurements.
DS-G10 SPEC
Model

DS-G10
Measurement principle

Oscillometric method
Applicable arm circumference

22-42cm
Cuff

Preformed / ―
D-ring / ○
Automatic inflation pressure control

―
Personal mode

○
Touch sensor switch

―
Clock function

○
Notification of measurement status

○
Notification of arm cuff status

―
Body motion check

○
Irregular pulse wave rhythm check

○
WHO classification

―
Pulse pressure display

○
Memory

2 banks, each stores 60 readings
Average calculation / ○ Last 3 within 15 min
Morning , Evening sorting / ―
Operating environment
( W x H x D )

+10℃ ~ +40℃
30 ~ 85% RH ( noncondensing)
Storage environment

-20℃ ~ +60℃
10 ~ 95% RH ( noncondensing )
Bluetooth

―
Power supply

AC adaptor ( ADP-W5 ) / Optional
Battery / 4 x LR6 ( AA alkaline ) batteries
Dimensions
( W x D x H )

127.3×162.3×96mm
Weight( approx.) without batteries

336g
CE

To be applied
*Specifications are subject to change without prior notice due to improvement in performance and quality.
*Each product listed above is an authentic medical device for which a "medical device approval number" has been obtained in Japan.
*Shape of the AC adaptors for DS-10, DS-11, DSK-1011 and DSK-1031 differs from DS-G10, DS-N10 and DS-S10